3D Design! Highly Breathable! Extreme Filtration!
Patented
3DBear Cutting
Strip-free design
Strip-free yet well-sealed design, gentle but protective for infant babies.
Comfortable Type Earloop
To ensure users have a better wearing experience, a fluffy material is used to make these smooth, chafe-free and super-elastic Earloops.
Three-dimensional
SAVEWO 3DBEAR is a single-use mask for young children aged 6-24 months with an exquisite 3D design. TYPECOOL+ filtration technology provides excellent filtration, breathability and comfort, while the skin-friendly. With an antimicrobial ESPP material and Comfortable Type Earloop, SAVEWO 3DBEAR is especially suitable for young children. It can filter 99.9% of bacteria, fine particles and viruses effectively with an ultra-low breathing resistance. SAVEWO 3DBEAR with Individual packaging is convenient for users to carry, and available in 3 colors.
High Breathability
Innovative filtration technology with ultra-high breathability
Ultra-low Breathing Resistance < 2.8mmH2O
Adopts the all-new hydrophobic electret technology that withstands moisture, maintaining high filtration efficiency
High Filtration
High Filtration Efficiency
Bacterial Filtration Efficiency

BFE≥99.9%

Particle Filtration Efficiency

PFE≥99.9%

Viral Filtration Efficiency

VFE≥99.9%

Fluid Resistance: Resists Synthetic Blood

@ 120mmHg

of pressure
Filtration is effective for

24 hours+

Filtration efficiency maintained 99.9% upon exposure to 100% relative humidity for

24 hours
BFE|PFE|VFE
Filtration Efficiency
≥99.9%
Fluid Resistance: Resists Synthetic Blood @ 120mmHg of pressure
Filtration is effective for 24 hours+
Skin-friendly
ESPP with a smooth and hydrophilic inner layer can maintain consistent humidity under the mask either in a wet or dehydrated condition.
Antimicrobial
Inner Layer
Bacteria grow readily in baby's saliva and other secretions. Therefore, we have strengthened the antimicrobial properties of ESPP for effective control.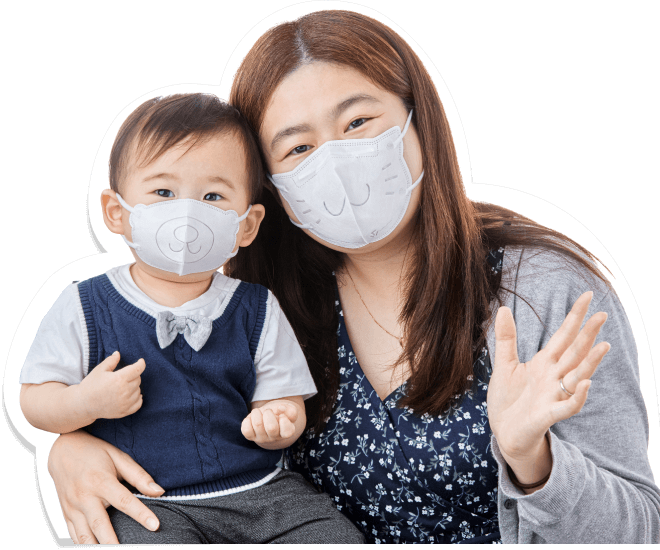 Level 2
US Surgical Mask
Standards
TYPE IIR
EU Surgical Mask
Standards
The recommended age for this product is for reference only. Toddlers should use this product under adult supervision and guidance. If any abnormalities are found, please stop using this product immediately and seek advice from professionals.