The First See-through Mask Designed & Manufactured in HK
Driven to deliver the best to those in need, SAVEWO is proud to present 3DMASK Smile after spending a year on development and utilizing the latest technology. The main feature is the anti-fog
for a wide clear window over the mouth. Apart from the superb design, function is given the same attention to detail: TYPECOOL+ technology with 99.9% effective filtration of bacteria, fine particles and viruses for as long as 24 hours; ultimate 3D cutting to increase the breathing area and keep the breathing resistance under 2.8mmH2O and exquisite breathable materials to allow a whole day of comfortable use. It also meets various international standards for surgical masks and respirators, including FFP2 (EU), KF94 (Korea), TypeIIR (EU) and ASTM Level3 (USA).

Function for
Maximum Visibility
The VisionFilm window will not fog up when you are speaking, or even working out, so that people around you can always see how your mouth is moving.

Ultra-wide Angle
VisonFilm is a brand new patented anti-fog technology that enables the opening of a wide clear window at the center of the mask and keeps the mouth visible from different angles.
Product Comparison
The
window is welded onto the center of the mask by ultrasound technology to ensure safety by keeping out air and water.
Other brands use self-adhesives to affix the clear film, which is prone to falling off or allowing air leakage, causing safety concerns in use.
Patented
Adjustable Design
The patented foldable design at the top makes it easy for users to adjust the tilting angle of the window and facilitates lip-reading even between people of different height.
Patented
V-shaped Design
The patented V-shaped (with the upper headband being longer than the lower neckband) of 3DMASK Extreme Pro has been ergonomically upgraded to better fit different face and head shapes.

Patented Supporting Layer
, a patented supporting material, is utilized for sturdy 3D cutting to increase the breathing area and fit the face shape for over 90% of adults.
High Breathability
Innovative filtration technology with ultra-high breathability
Ultra-low Breathing Resistance < 2.8mmH2O
Adopts the all-new hydrophobic electret technology that stands up to moisture, allowing for maximum filter life
High Filtration
Ultra-high Filtration Efficiency
Bacterial Filtration Efficiency

BFE≥99.9%

Particle Filtration Efficiency

PFE≥99.9%

Viral Filtration Efficiency

VFE≥99.9%

Fluid Resistance: Resists Synthetic Blood

@ 160mmHg

of pressure
Filtration is effective for

24 hours+

Filtration efficiency maintained 99.9% upon exposure to 100% relative humidity for

24 hours
BFE|PFE|VFE
Filtration Efficiency
≥99.9%
Fluid Resistance: Resists Synthetic Blood @ 160mmHg of pressure
Filtration is effective for 24 hours+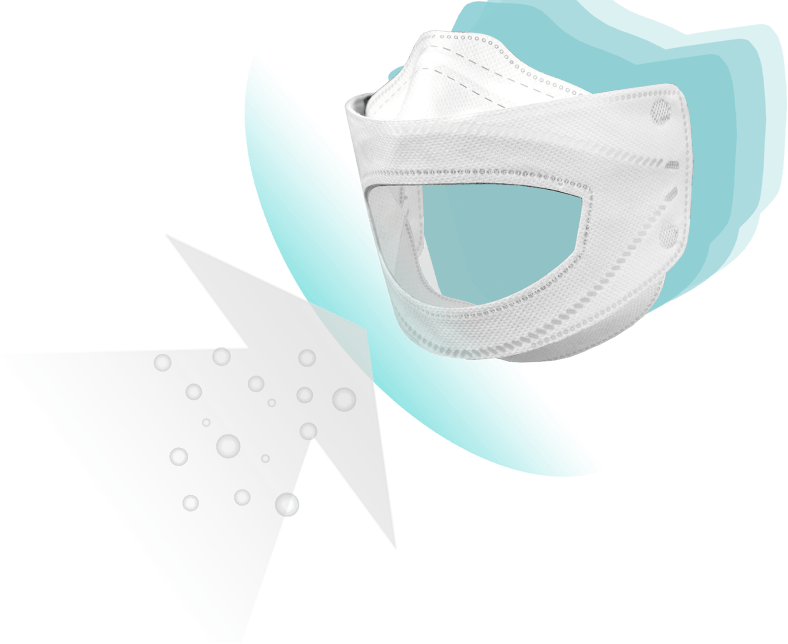 Skin-friendly
ESPP with a smooth and hydrophilic inner layer can maintain consistent humidity under the mask either in a wet or dehydrated condition.
Barrier-free Communication
Lip reading and facial expressions are important aspects for hearing impaired persons to understand speech content. In sign language, even when the handshape and movement are the same, different meanings can be conveyed with changes in facial expressions. 3DMASK Smile gives an obstructed view of the mouth to facilitate barrier-free communication for people with hearing impairment.
Social Responsibility
3DMASK Smile is a necessity for hearing impaired persons in terms of communication and pandemic prevention. Let's build a barrier-free Hong Kong together!
FFP2
EU Respirators
Standards
KF94
KR Respirators
Standards
Level 3
US Surgical Mask
Standards
TYPE IIR
EU Surgical Mask
Standards
N95
US NIOSH 42 CFR 84 N95
1.
Peel off the protective layer from VisionFilm.
3.
Cup the mask onto your face.
4.
Adjust the nose piece accordingly to ensure proper fit.
Finely adjust viewing angle for lip reading.